You are viewing the article How to make sweet and sour mango rice paper to eat without getting bored at home  at Tnhelearning.edu.vn you can quickly access the necessary information in the table of contents of the article below.
Are you looking for a delicious and exciting snack to enjoy while spending time at home? Look no further, because we have the perfect solution for you – sweet and sour mango rice paper! This delectable dish brings together the refreshing flavors of tropical mangoes and the tangy twist of sourness, all wrapped up in a delicate and versatile rice paper. Whether you are craving a sweet treat, a light appetizer, or a unique snack, this recipe is guaranteed to keep you entertained and satisfied. So, let's dive into the world of flavors and learn how to make sweet and sour mango rice paper that will keep you anything but bored at home!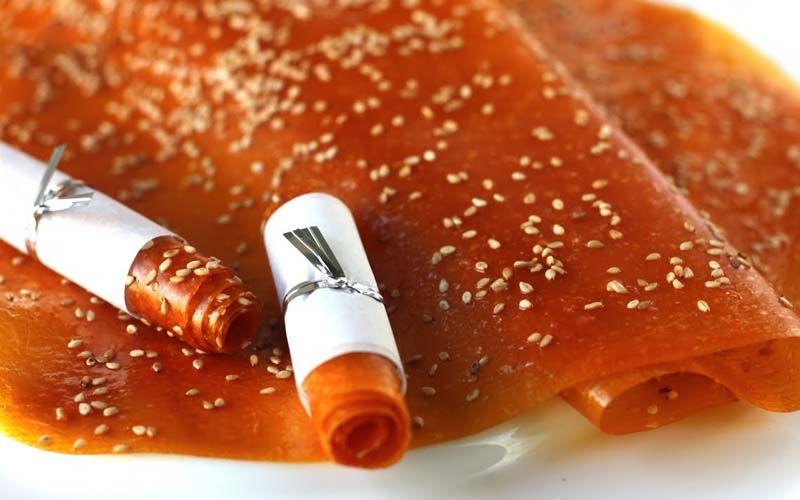 Prepare
15 Minutes Processing
30 Minutes For
2 – 3 people
The fragrant mango rice paper with eye-catching yellow color will be a great choice for your home snack. Let's pocket the recipe to make this cake to give to the people you love.
Ingredients for making mango rice paper
1 ripe mango (about 500g)

100g sugar

20g white sesame

5g ginger

20ml lemon juice

Tools: Blender, oven, stencils,…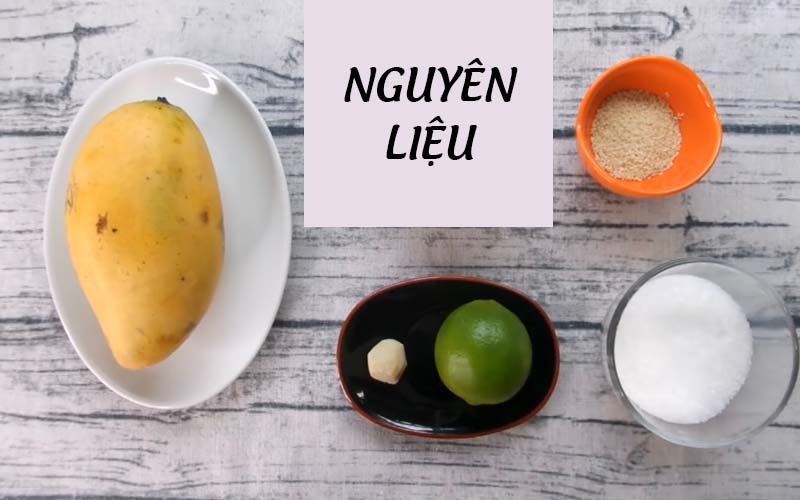 Ingredients for making mango rice paper
Good tip

The way to choose a good mango is to choose ripe mangoes, the skin of the mango is evenly yellow, the skin is tight, not rough and there are no tiny bruises. To make delicious mango cake, you should choose Hoa Loc sand mango because this mango has a fresher flavor and color than other mangoes.
How to make mango rice paper
Step 1Make mango rice paper dough
Mango you wash, peel and put in a blender, add 100g of sugar, 20ml of lemon juice and 5g of grated ginger and blend well.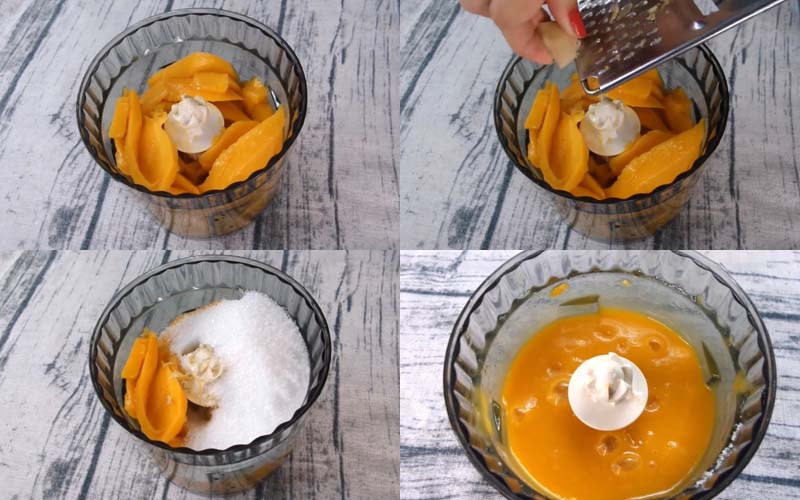 Puree mango
Good tip

If you do not like to use sugar, you can use molasses to replace and increase or decrease so that the cake has a sweet and sour taste.
After blending, pour the mixture into the pan and stir over medium heat . Remember to stir constantly so that the mango does not burn . Stir until the mixture thickens (about 10 minutes), then turn off the heat.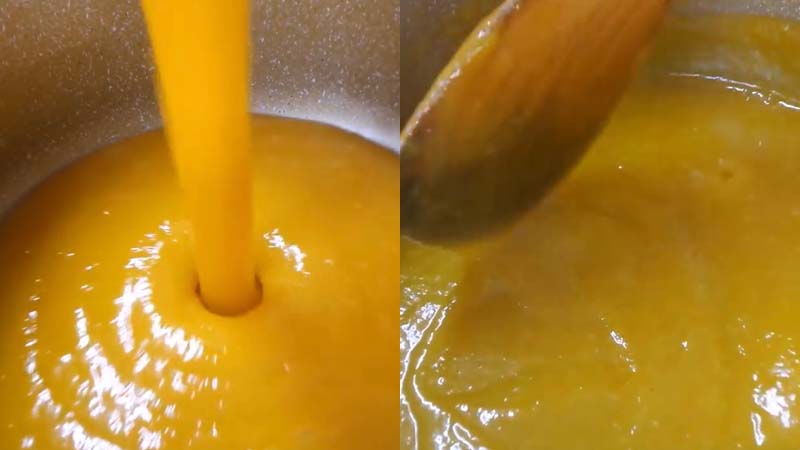 Stir until the mango mixture thickens
Step 2Bake mango rice paper
Prepare a tray lined with parchment paper or heat-resistant fabric , place the mangoes and coat the entire tray with a thin layer. Next, sprinkle white sesame seeds on top and put in the oven. You can bake at 100 degrees Celsius for 2-3 hours.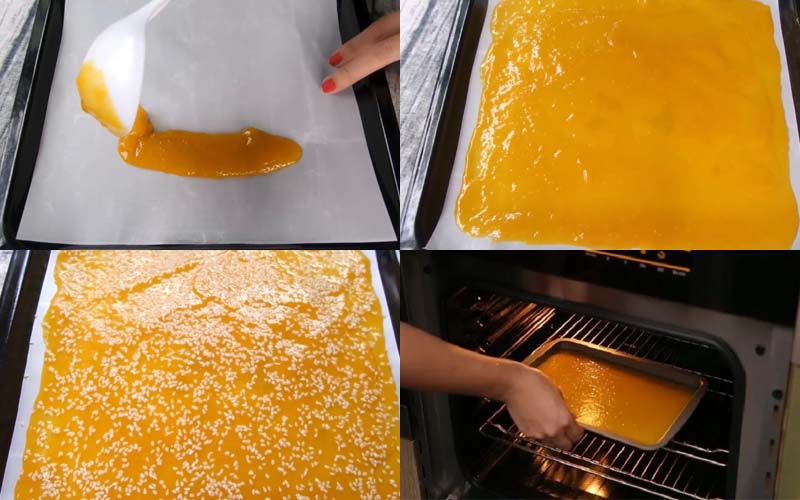 Bake mango rice paper
Note

Depending on your preference, you can sprinkle more or less sesame or no sesame seeds. Black sesame can be substituted for white sesame or both.
If you do not have an oven, you can take the cake to a place with a lot of hot sun to dry. However, if you do it this way, you should slug the mango mixture on the fire for a little longer.
Step 3Completing the mango rice paper
After the rice paper has dried, you can take it out, you can cut them into bite-sized pieces or cut them into long pieces and then roll them up depending on your preference.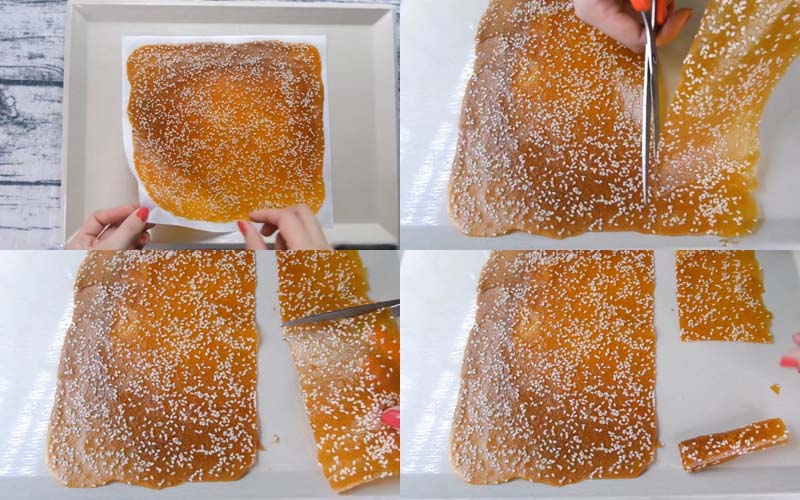 Cut the cake into bite-sized pieces or roll
Good tip

You can store the mango sticky rice paper in a vacuum bag or put it in an airtight jar in a cool place or in the refrigerator to keep it for a long time.
Step 4Finished product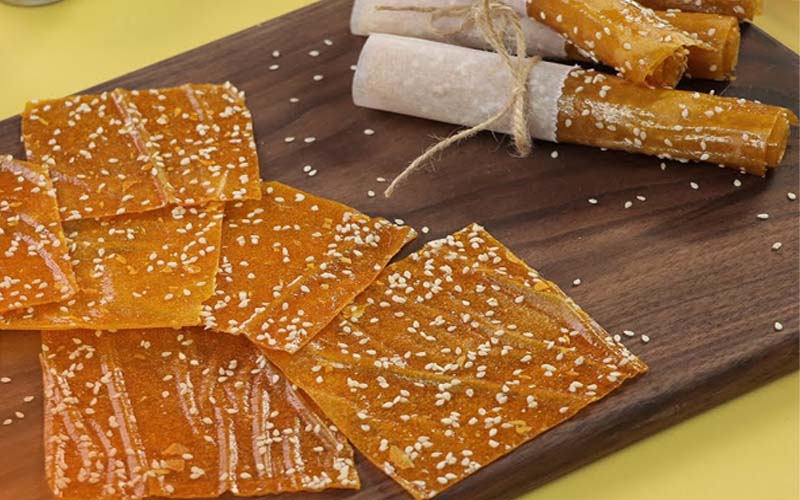 Sweet and sour mango rice paper
With just a few simple steps, we have instant mango sticky rice paper, right? The sweet and sour mango combined with the toughness and flexibility after baking will make you eat it all the time without getting bored.
Enjoy
This dish is often used as a gift when returning home, treating guests when coming home to play. How to eat mango cake is very simple, just cut it into small pieces with any shape, decorate it on a plate with a cup of warm tea for the elderly to sip, talk about old stories, it's interesting, isn't it?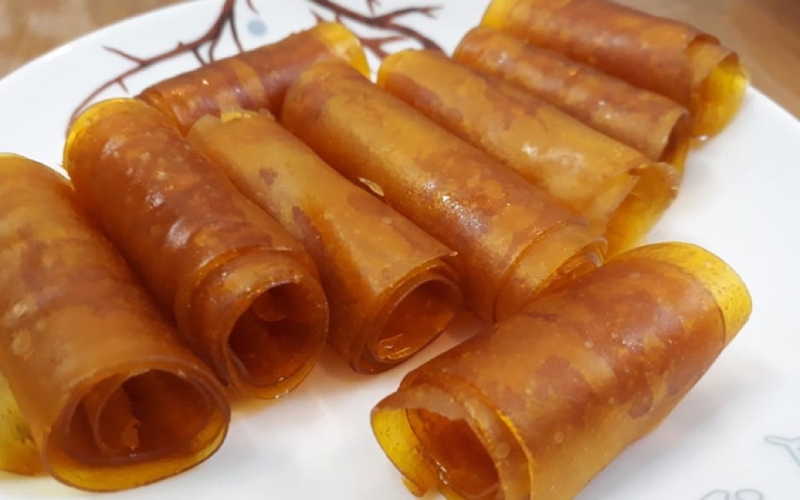 Enjoy sticky mango rice paper
Just now is the recipe for sweet and sour mango sticky rice paper that Tnhelearning.edu.vn wants to share with you. Let's go to the kitchen and make this rustic dish for the family right away.
Tnhelearning.edu.vn
In conclusion, learning how to make sweet and sour mango rice paper is not only a fun and creative activity to do at home, but it also provides a delightful and refreshing snack option. By layering the vibrant flavors of fresh mango, tangy rice paper, and the perfect balance of sweetness and sourness, this dish is sure to keep your taste buds entertained. Moreover, it offers a healthy alternative to satisfy your cravings while adding a tropical twist to your usual snacks. With a few simple ingredients and easy steps, you can easily whip up this unique treat without boredom setting in. So, the next time you find yourself at home and seeking a new culinary adventure, try making sweet and sour mango rice paper – it's a delightful combination that will keep you both entertained and satisfied.
Thank you for reading this post How to make sweet and sour mango rice paper to eat without getting bored at home at Tnhelearning.edu.vn You can comment, see more related articles below and hope to help you with interesting information.
Related Search:
1. Recipe for sweet and sour mango rice paper rolls
2. Tips for making tasty mango rice paper rolls
3. Creative variations of sweet and sour mango rice paper rolls
4. Step-by-step guide to making mango rice paper rolls at home
5. Easy and delicious sweet and sour mango rice paper roll recipe
6. Ingredients needed for mango rice paper rolls with a sweet and sour twist
7. Advantages of mango rice paper rolls as a healthy snack option
8. How to cut mango for perfect rice paper rolls
9. Ideas for dipping sauces to accompany sweet and sour mango rice paper rolls
10. Pro tips to prevent rice paper rolls from becoming soggy